Regular price
Sale price
$ 5.00 USD
Unit price
per
Sale
Sold out
Bath Buddy Hair & Body Wash makes bath time a breeze! Bath Buddy is an ultra moisturizing, fragrance free wash that is perfect for baby and the whole family. Gentle on the eyes and nourishing on skin.
Ultra Gentle Hair and Body Wash
Designed with Sensitive Skin and Scalps in Mind
Guaranteed Skin Safe
Fragrance, Dye and Paraben Free
5 fl oz. (150 ml)
Ingredients

Water/Aqua, Aloe Barbadensis Leaf Extract*, Sodium Coco-Sulfate, Coco-Glucoside, Glycerin**, Maris Sal, Citric Acid, Sodium Benzoate

*Ingredients from organic farming
**Made using organic ingredients
Certifications

| | | | |
| --- | --- | --- | --- |
| | | | |
Shipping & Returns

We offer Free Shipping on all U.S. orders over $50. We charge a $6.95 shipping fee on all U.S. orders under $50. Fulfillment takes 3-5 business days.

Returns are accepted for up to 90 days. Learn more about our Return Policy.
Share
View full details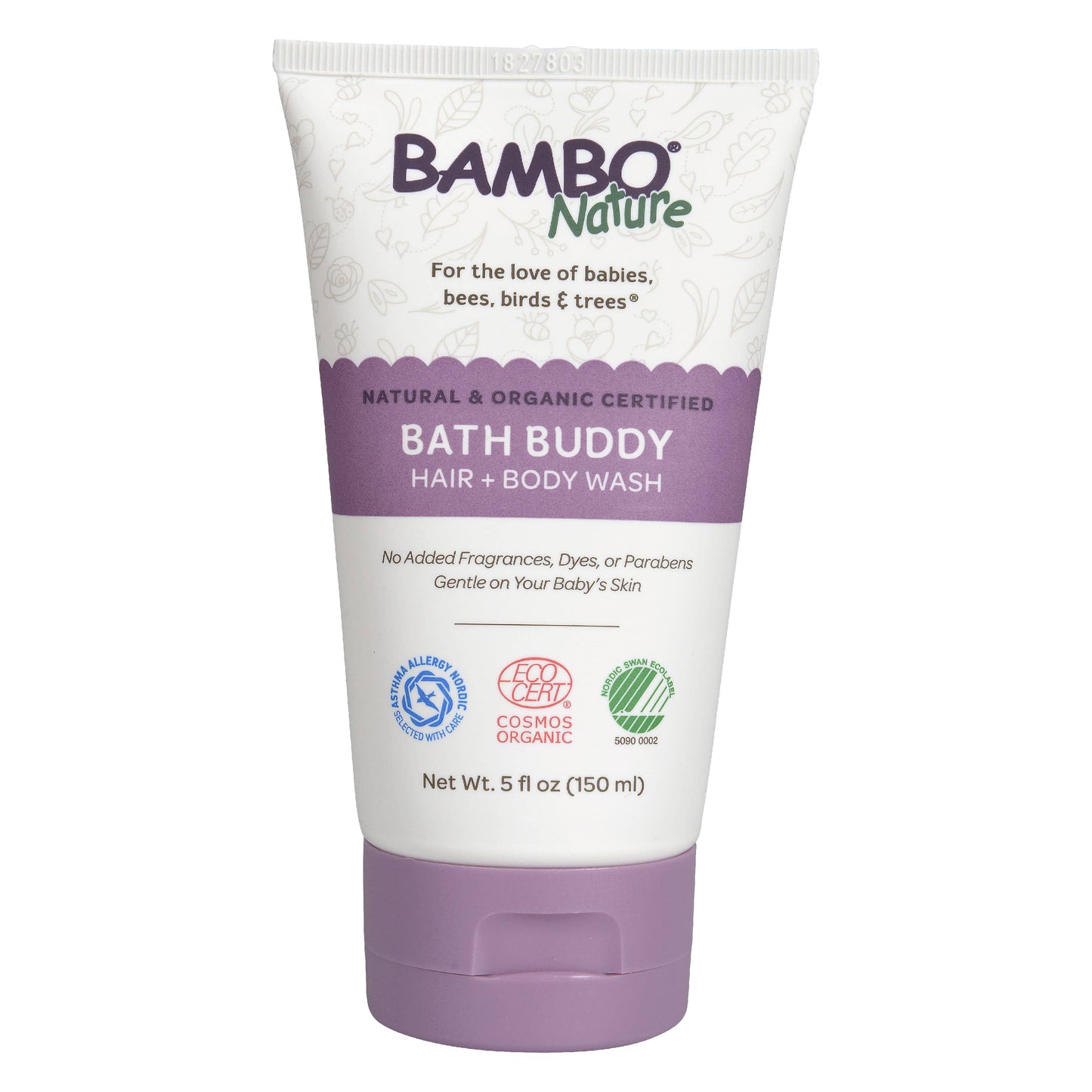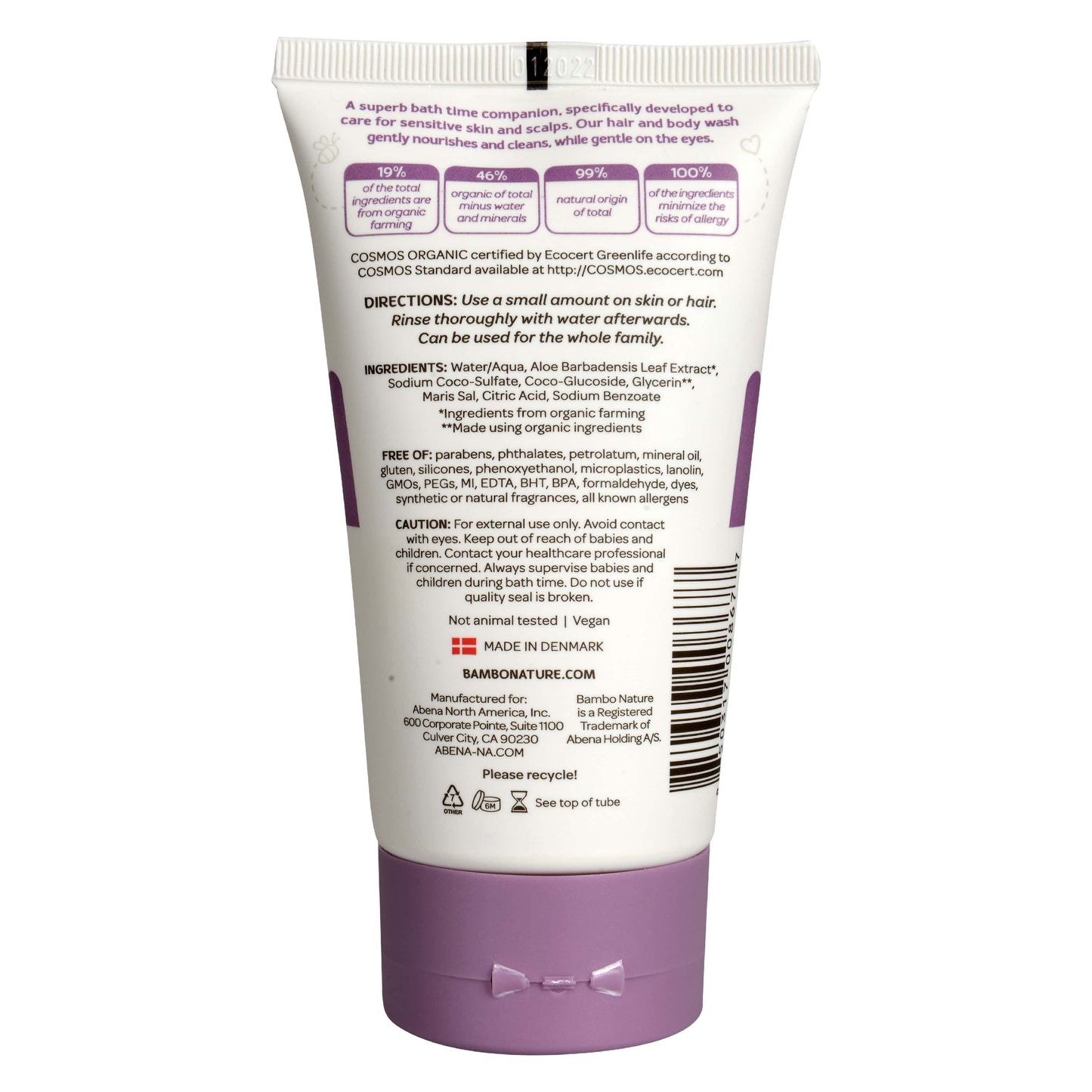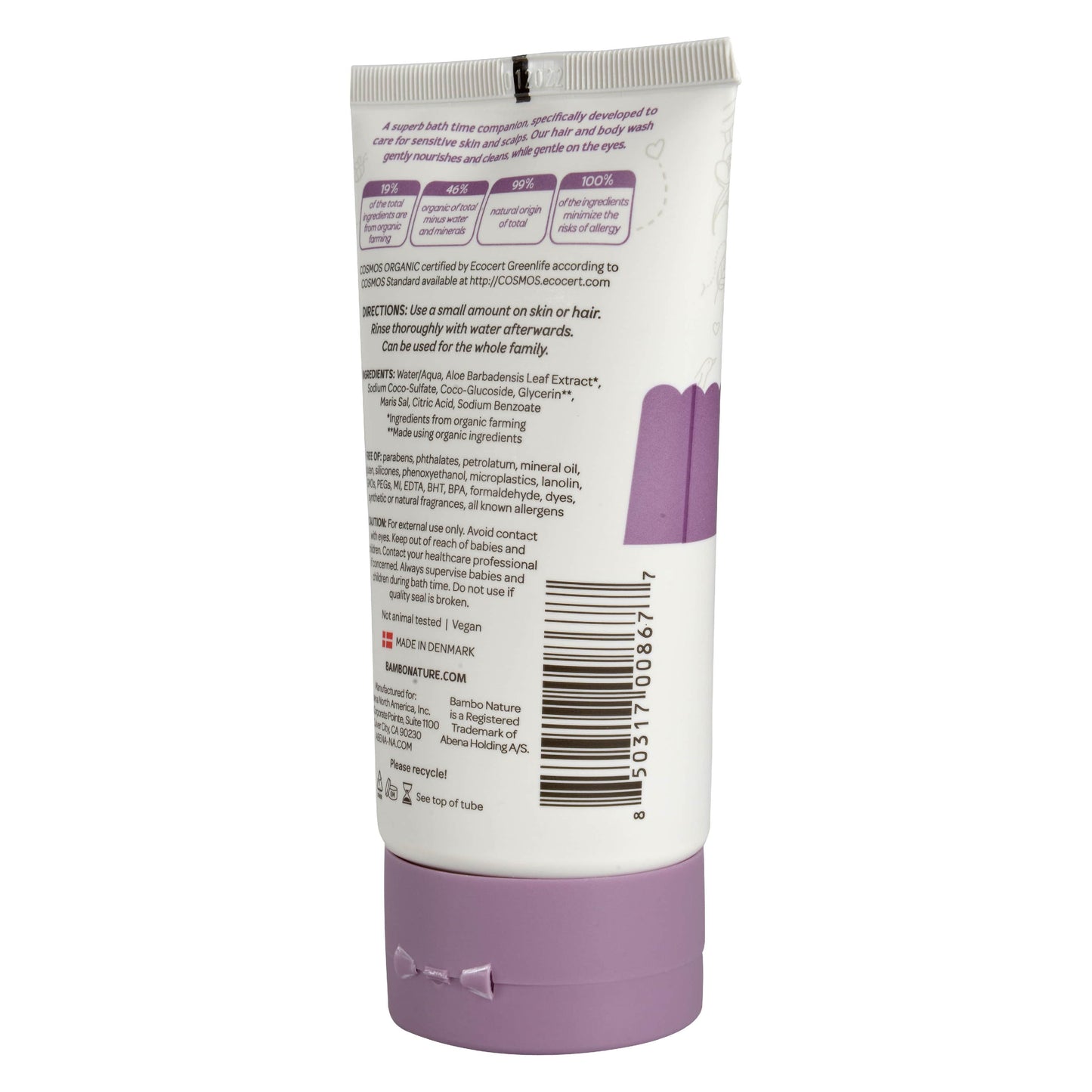 FAQ
What are the key features of your skin care products?

• Designed with Sensitive Skin and Scalps in Mind
• Guaranteed Skin Safe
• Fragrance, Dye and Paraben Free
• 100% Vegan and Hypoallergenic
What does it mean to be Dermatologist Approved?

When we ensure that our products are Dermatologically Tested and Approved, this means that we have enlisted a third party to conduct the necessary tests to examine the skin's tolerance to a specific cosmetic product. What does this entail, exactly? The testing is done according to the guidelines from Cosmetics Europe in a controlled independent test center by a licensed dermatologist. The dermatologist performs what is known as "patch testing"—placing a small amount of product on an area of the skin and putting a band-aid over it, and then removing the band-aid after 48 hours to see if the skin has had a reaction. The patch test is conducted on at least 50 volunteers (and never animals!) with different ages and skin types to be sure we are testing as many skin variables as possible—normal, sensitive, eczema, etc.! The product is then classified as harmless if none of the volunteers have a negative reaction. Of course, it is impossible to capture and test ALL the different skin types the world has to offer, so there is a slight chance one or several ingredients may cause a reaction.

What does it mean to be sustainably made?

At Bambo Nature, we voluntarily undergo strict, rigorous, third-party environmental inspections of our products that assess the environmental impact of the entire life cycle—all the way from raw material to production, consumption and waste.

<< Raw Materials >>
• The wood used for pulp is derived from sustainable forestry, where more trees are planted than felled. Stora Enso, wood pulp supplier of Abena, is a member of the Clean Shipping Project
• There is no chlorine used or added in our manufacturing process
• No chemicals or compounds from SVHC (REACH Article 33[2]) are added or used during production – Substances of Very High Concern
• No known substances that are harmful to health or the environment are used or added during production (Phthalates, Organotins [MBT, DBT, TBT], heavy metals, Chlorine (CI), Formaldehyde (HCHO) Colophonium, AZO pigments, PVC.) Abena has gone as far as to prevent use of any chemical or compound that is known as locally irritating or sensitizing

<< Production >>
• Abena requires a reduction in energy consumption. Bambo Nature Disposable Baby Diapers are manufactured on Abena's newest and most efficient diaper machine powered by 100% wind energy.
• Abena adheres to requirements on resource consumption.
• There are no harmful chemicals used or added during production (no optical brighteners, no skincare lotions, no perfumes or essential oils, no odor eliminators)
• Abena recycles 95% of all waste from our production of baby diapers. Even powder and dust from the plant is filtered, collected and sold for further use

<< Packaging and Distribution >>
• Abena's packaging and distribution focuses on reducing waste and the use of fuels
• Products and packaging materials can be disposed of through recycling, incineration or composting.

What sets Bambo Nature products apart from competitors?

We are happy you asked! Speaking from the heart and soul of who we are, Bambo Nature is a family owned and operated business, with many of our employees and founders having children of their own!! We know the level of excellence we expect in a baby product, and therefore we strive to manufacture and produce this level of excellence for all of our customers. With more than 35 years in production, we are a legacy brand you can trust. It is our mission and core value to make sure we are putting our best foot forward for you and your little ones. Happy and healthy skin starts with Bambo Nature, so you can #parentfearlessly.

Logistically speaking, our products are created for parents who seek soft, comfortable, gentle, skin safe products for their children. Our products are free of all known harmful chemicals, allergens, parabens, and dyes. This is to ensure that you can avoid any allergic reaction, and trust that what you are putting on your baby's gentle skin is actually safe. Our products do not contain any substances or chemicals that are harmful to health or the environment and all of our products have been dermatologist tested by the institute ProDERM (Institute for Applied Dermatological Research).
Love from our customers
Abigail R.


This is such a great product! Bubbles up great, leaves skin and hair super soft, and doesn't have a strong fragrance (if any!)....love it!!



Naina R.


Love the hair and body wash combo. Great for our after swim showers. Hair and skin is always so soft and clean after use. Good and clean ingredients and easy to carry and use! Bambo Nature doesn't disappoint.



Natalya L.


Good product, same as the rest of the products of this brand - pleasant, not overwhelming smell, gentle on the body.