Regular price
$ 11.99 USD
Regular price
Sale price
$ 11.99 USD
Unit price
per
Sale
Sold out
Soft, breathable, and super absorbent, these diapers keep up with your kiddos (even when you can't). Our super soft and ultra flexible design keeps baby happy all day long!
Size 0 is designed to protect umbilical cord area. 
Ultra Thin Design with Leakage Prevention
Fully Breathable Backsheet for Cool and Comfortable Skin
Made with Totally Chlorine Free (TCF) Fluff Pulp
Eco-Labeled and Produced with 100% Sustainable Energy
Wetness Indicator
Guaranteed Skin Safe
Size Chart & Bag Count

| | | | |
| --- | --- | --- | --- |
| | 2-6 lbs | 24/bag | 6bags/case |
| | 4-9 lbs | 36/bag | 6bags/case |
| | 7-13 lbs | 32/bag | 6bags/case |
| | 9-18 lbs | 29/bag | 6bags/case |
| | 15-31 lbs | 27/bag | 6bags/case |
| | 27-40 lbs | 25/bag | 6bags/case |
| | 35+ lbs | 24/bag | 6bags/case |
Ingredients

Non-woven backsheet (outer side) of polypropylene (PP) and polyethylene (PE). Absorbent of polyacrylate (SAP) and cellulose (TCF fluff). Topsheet of non-woven (PP). Acquisition layer of non-woven (PET/Co-PET). Hook tab fastening system of non-woven (PP/PE). Adhesive made of synthetic rubber—no optical brightener added. Wetness indicator. Elastication made from elastane.

Shipping & Returns

We offer Free Shipping on all U.S. orders over $50. We charge a $6.95 shipping fee on all U.S. orders under $50. Fulfillment takes 3-5 business days.

Returns are accepted for up to 90 days. Learn more about our Return Policy.
Share
View full details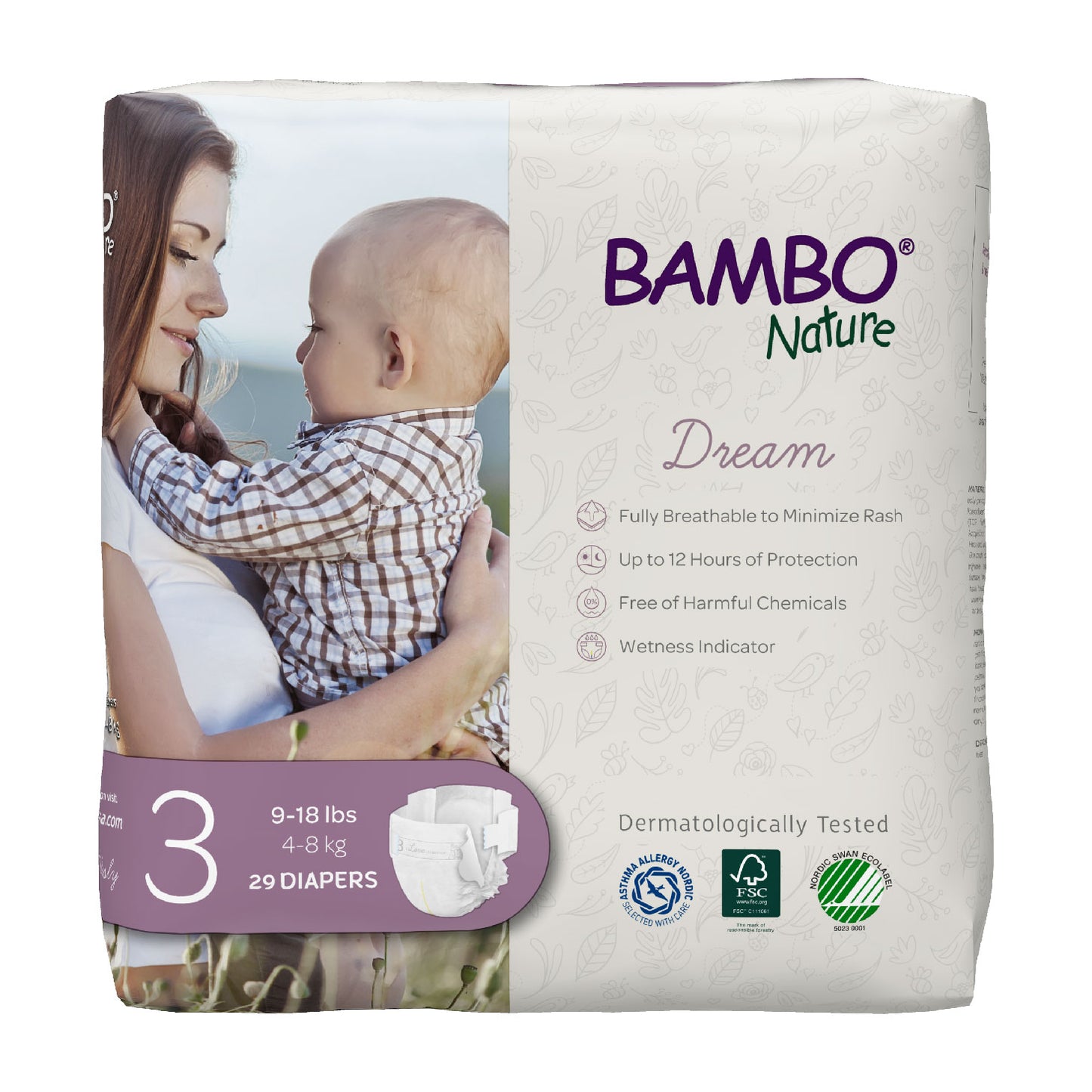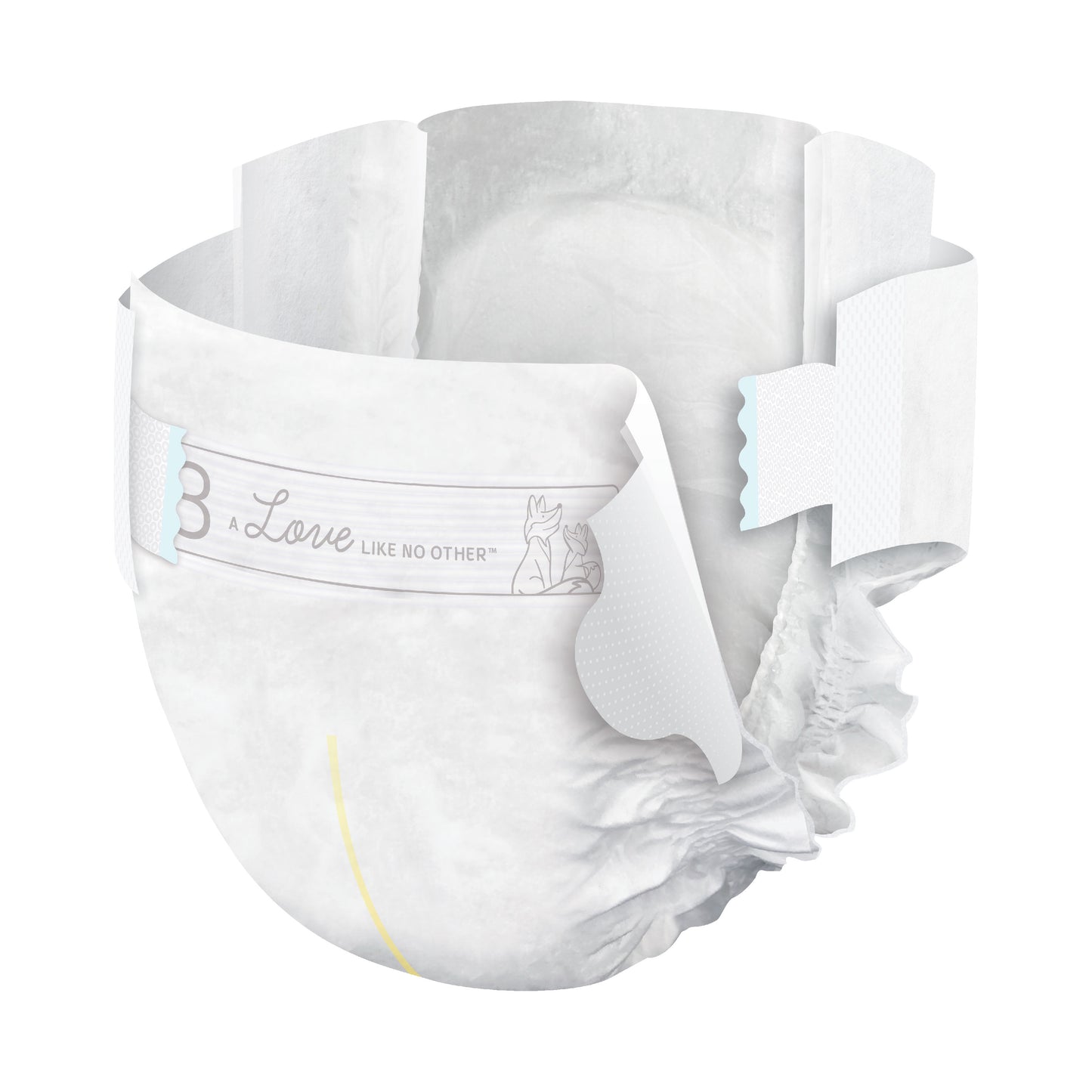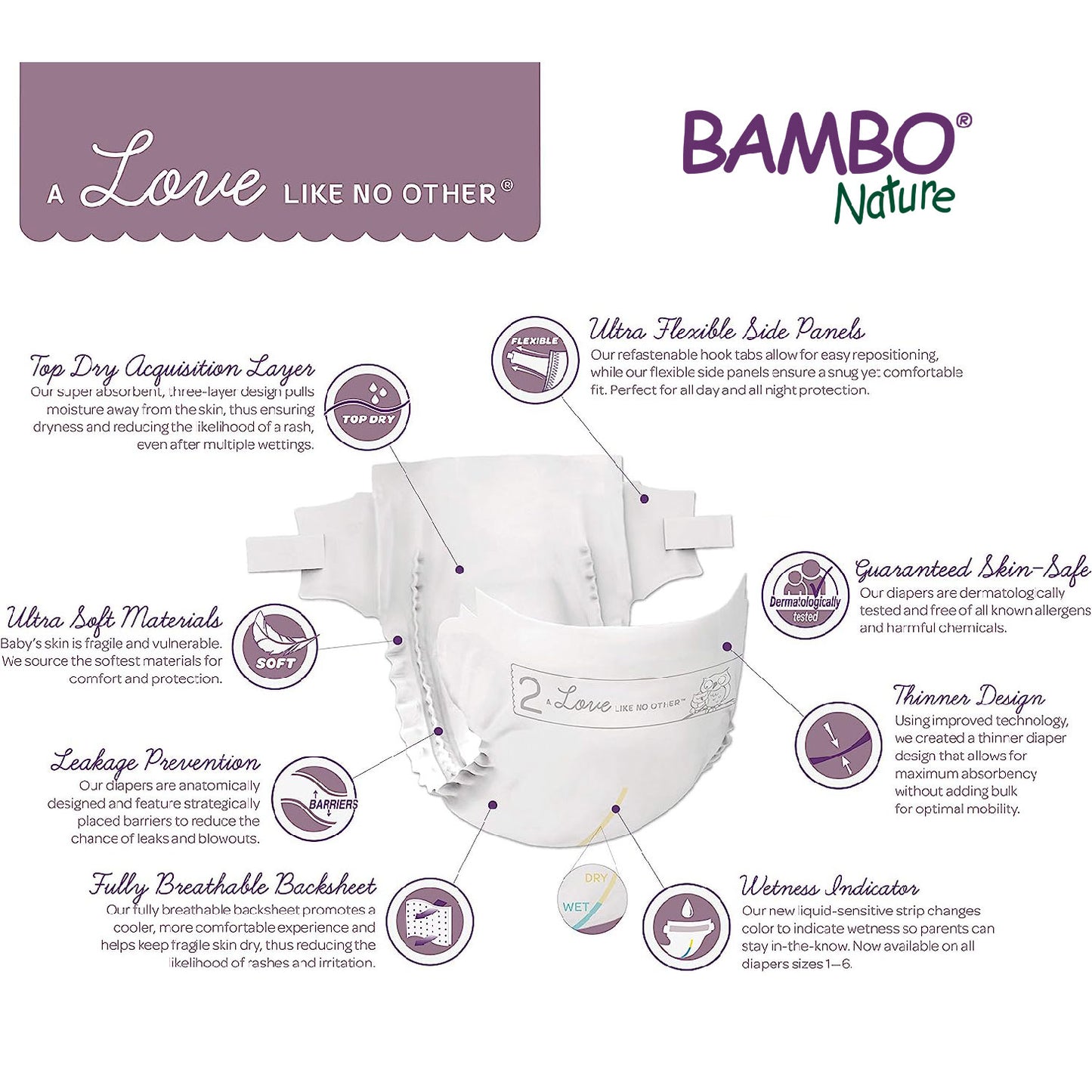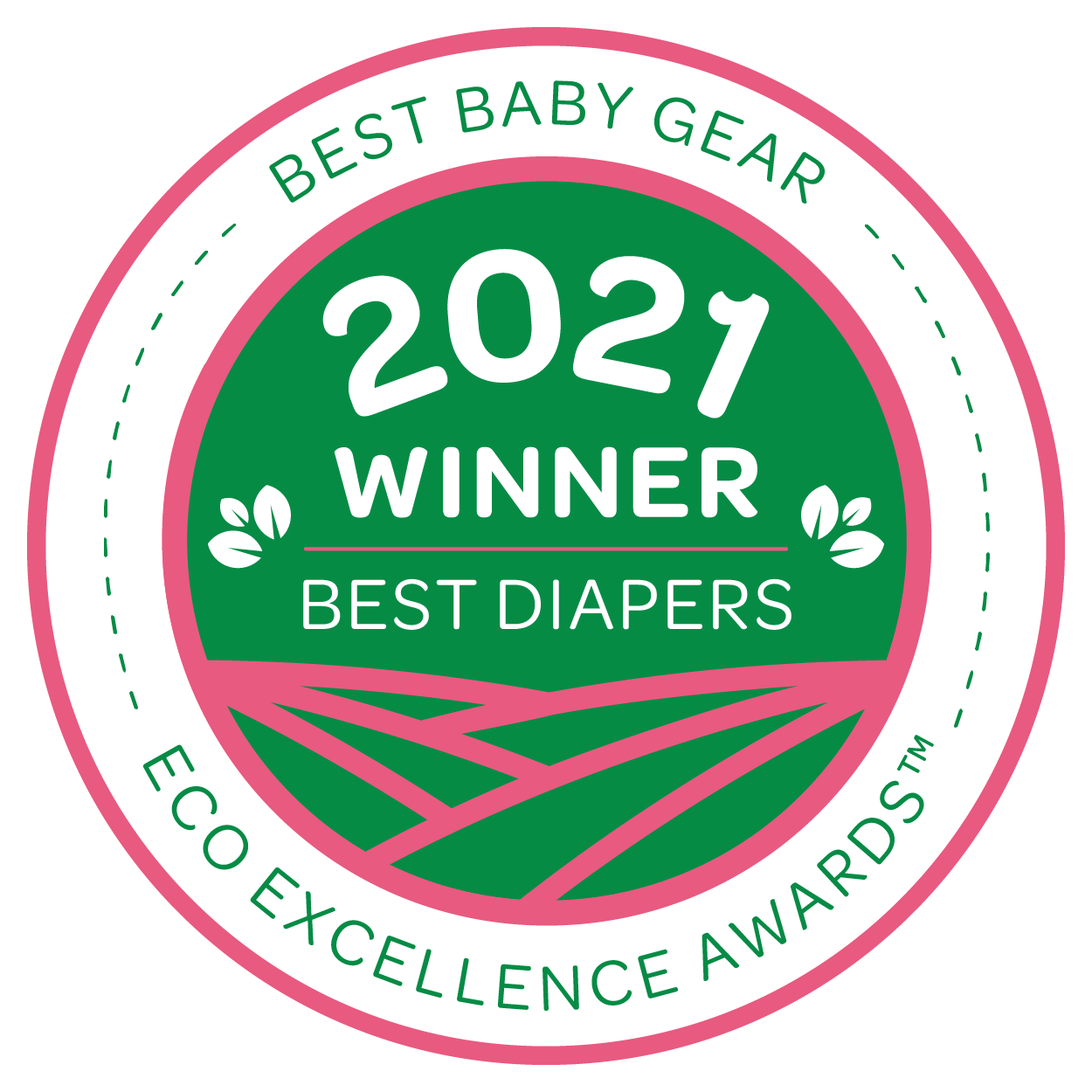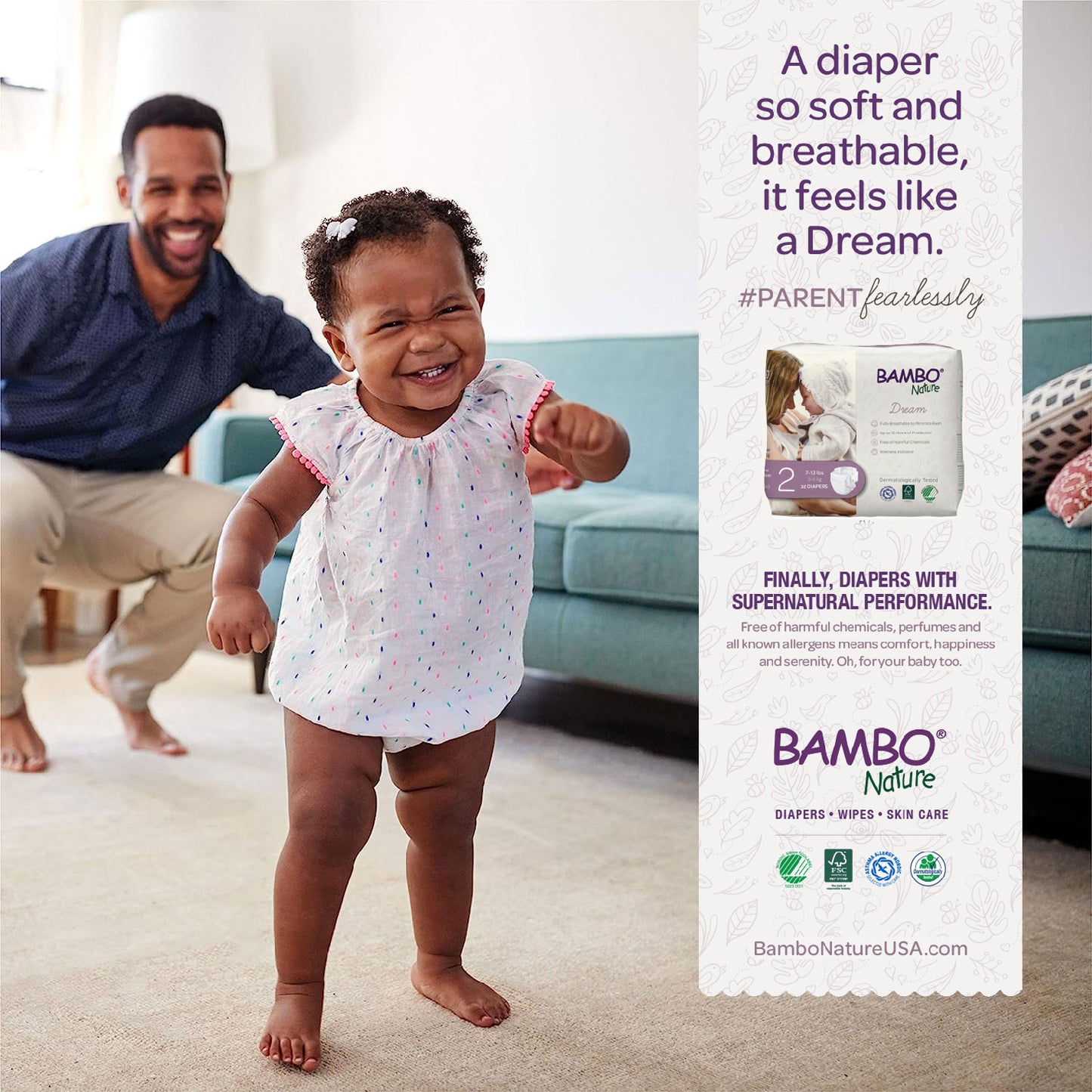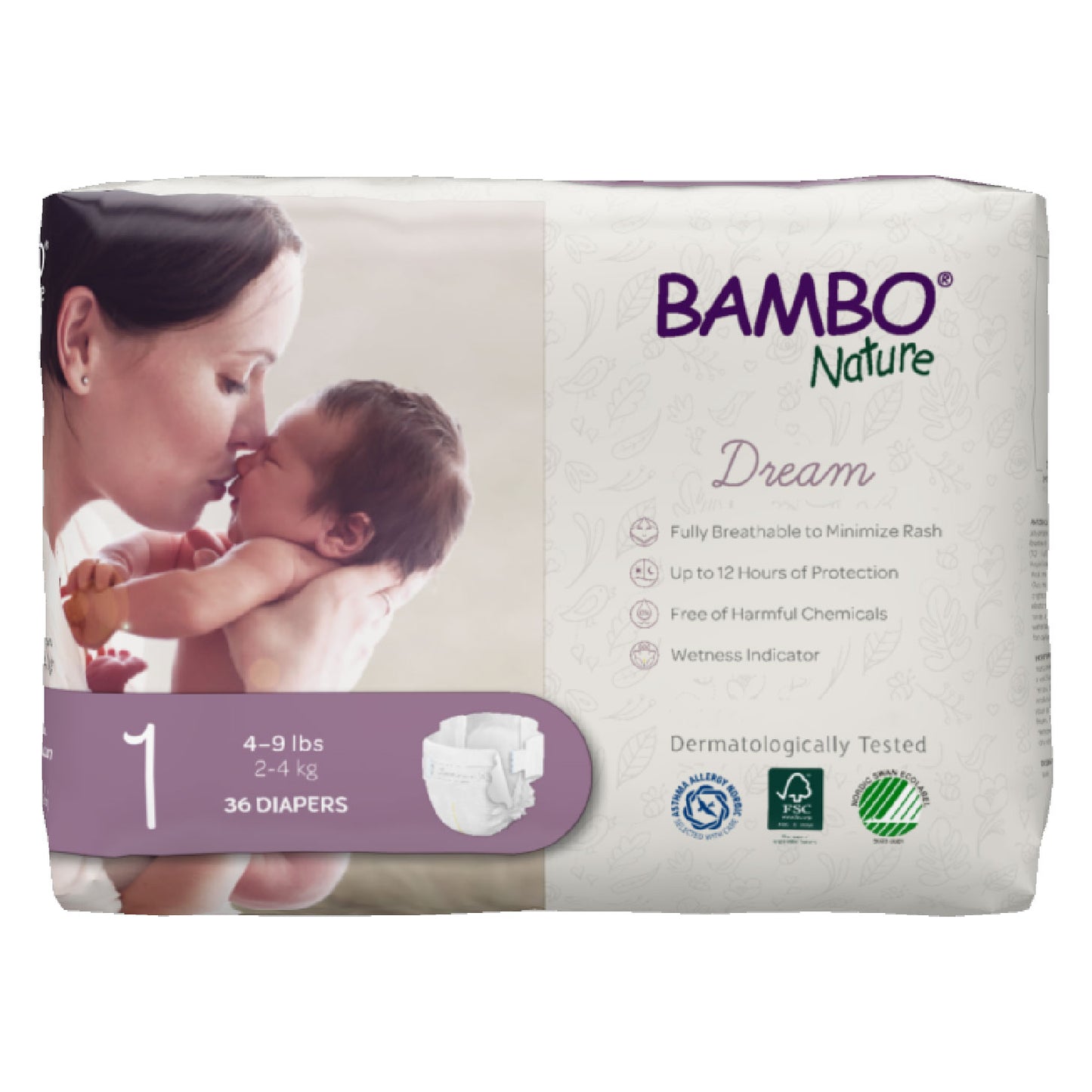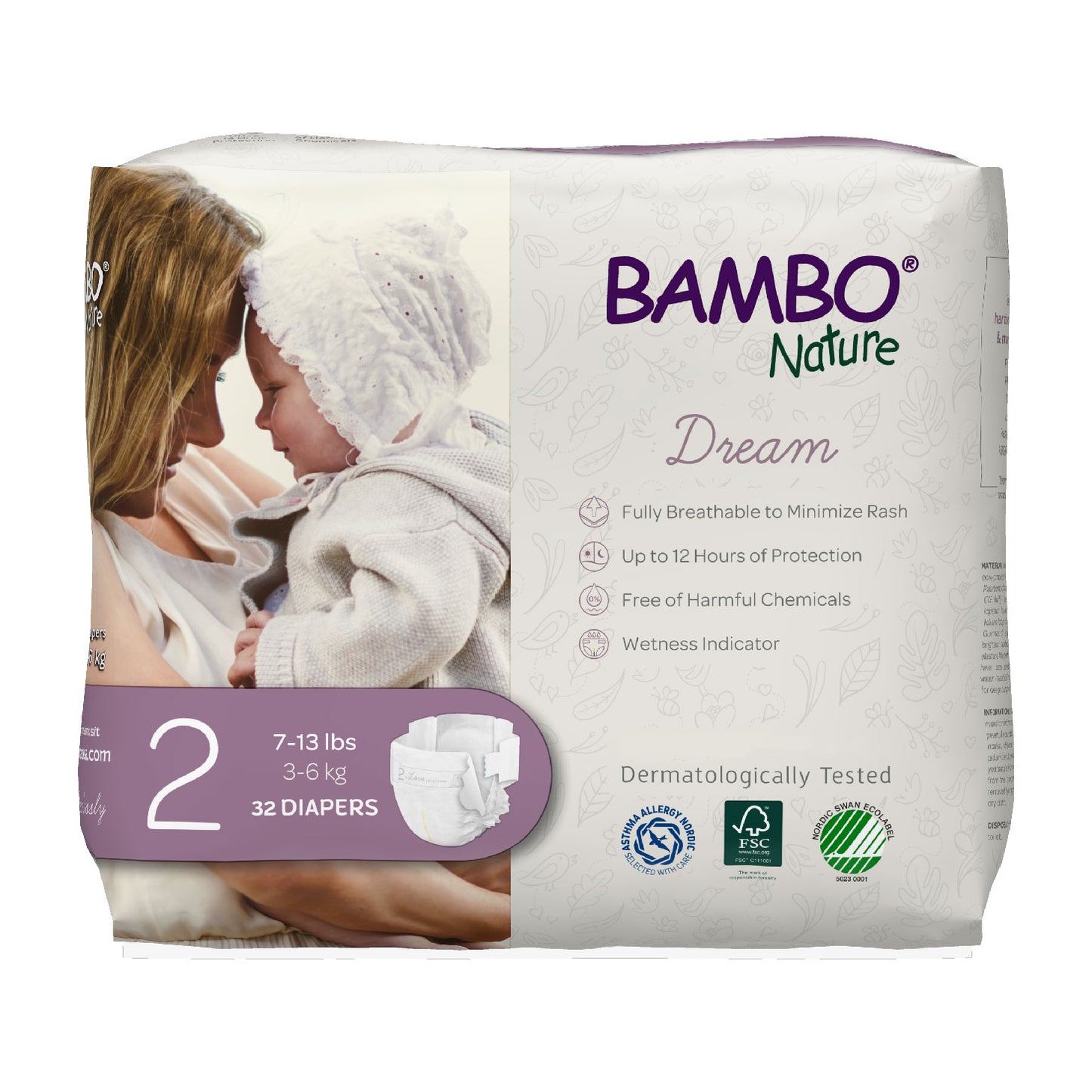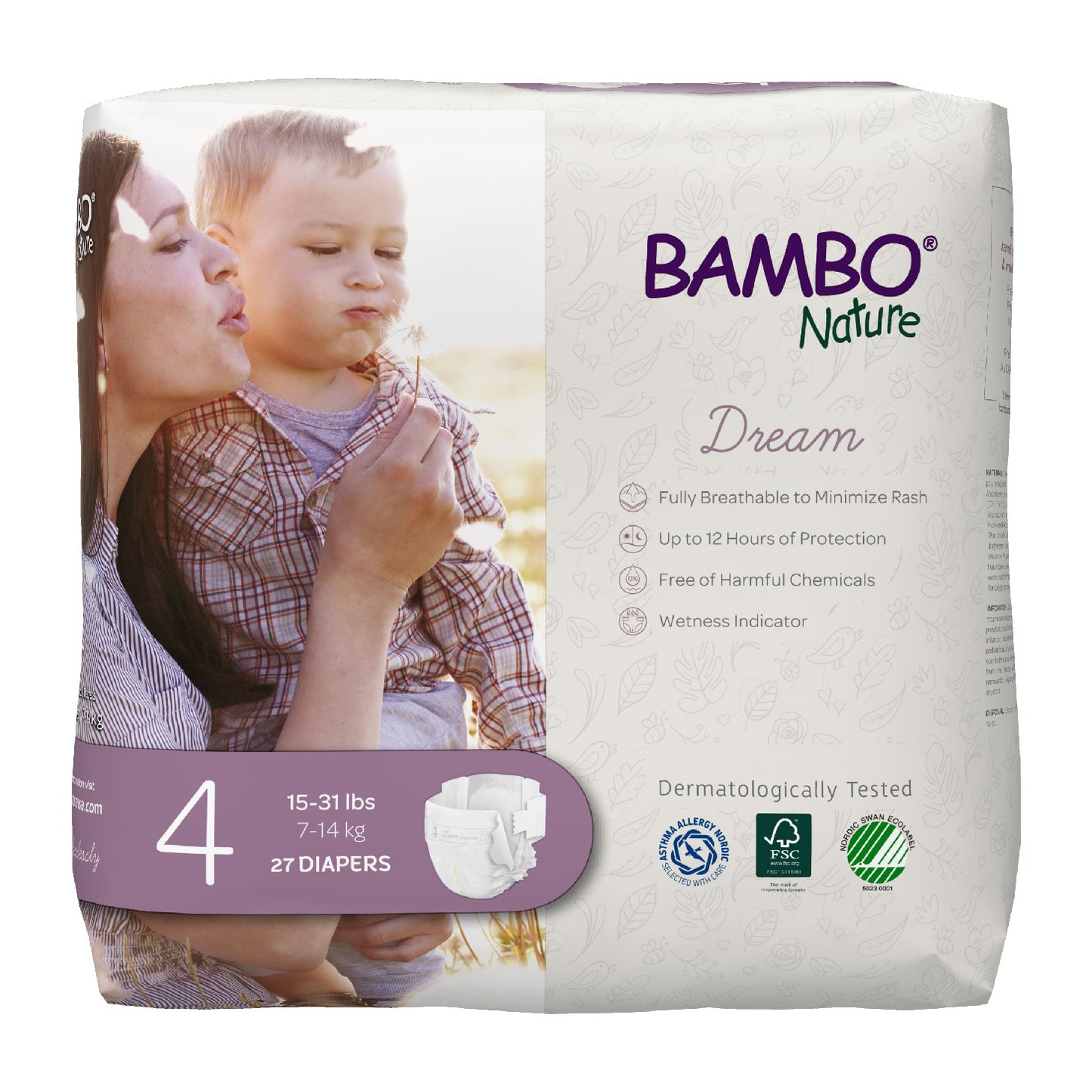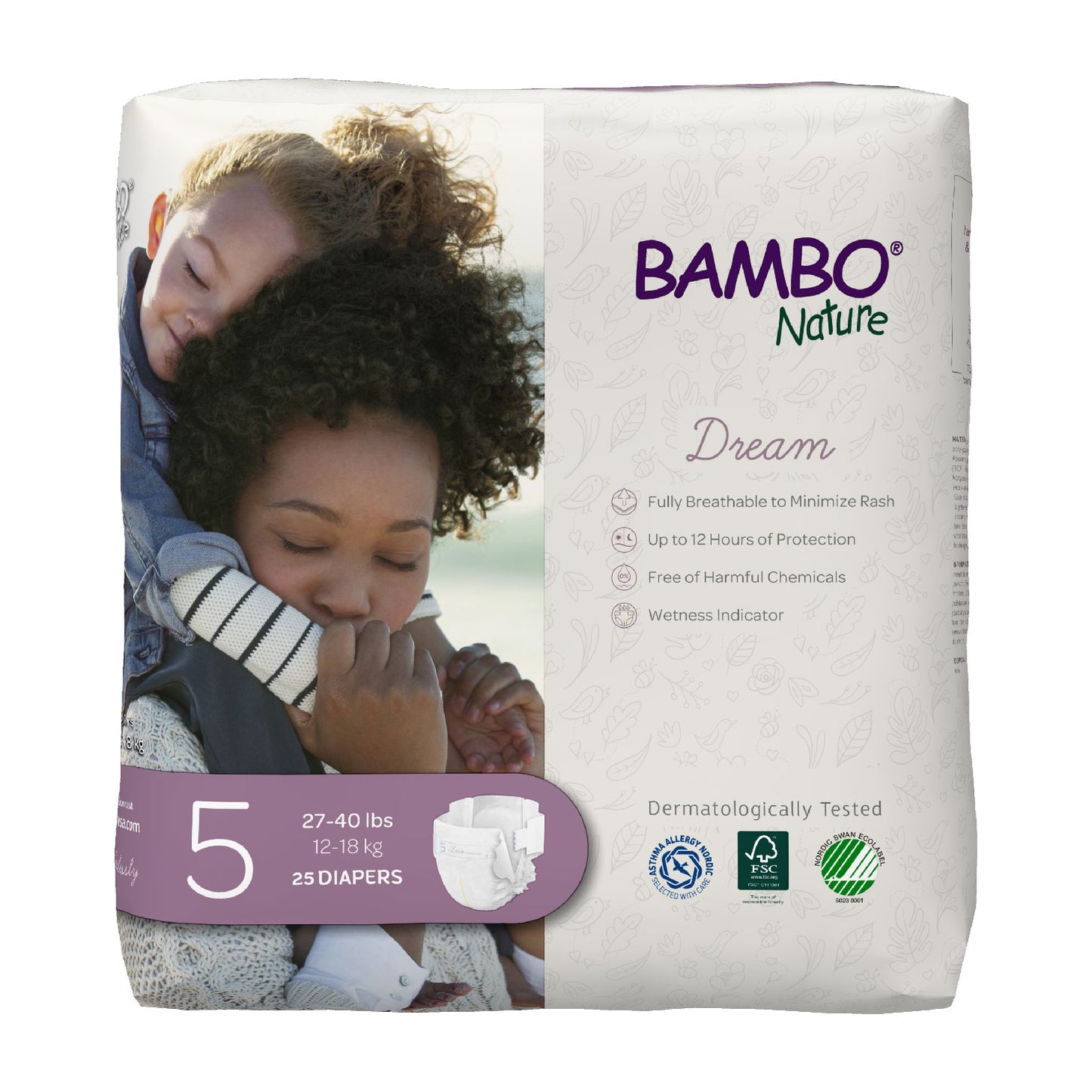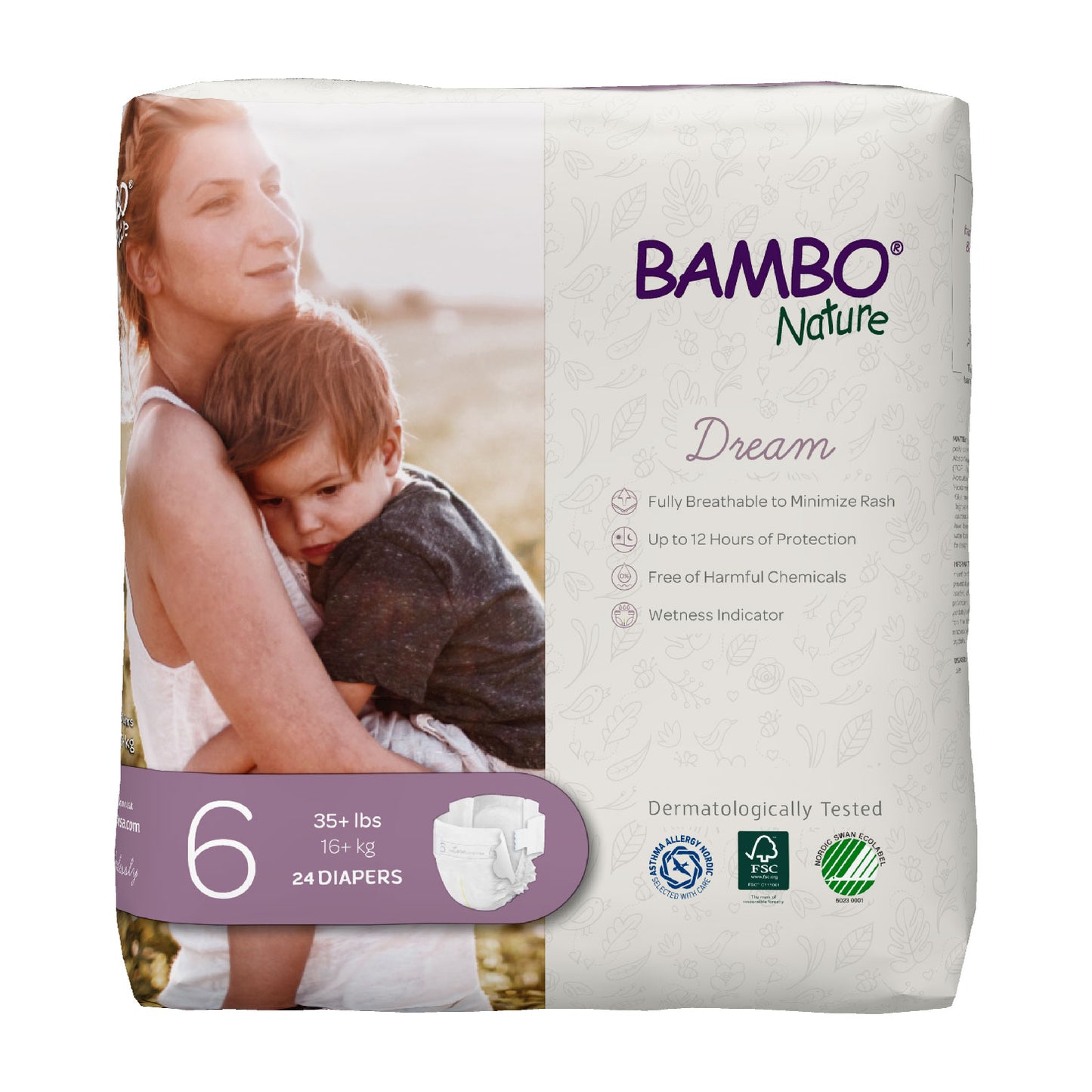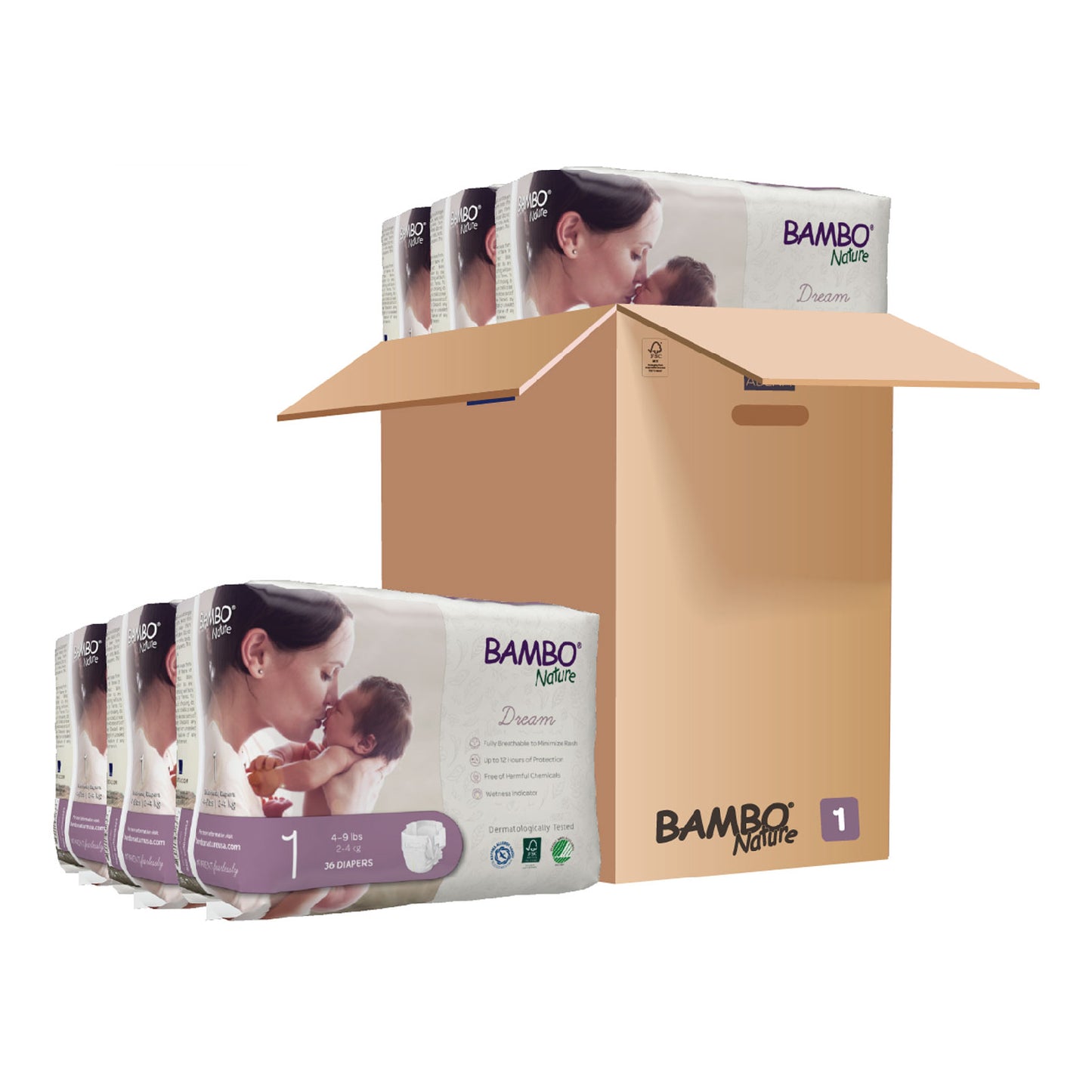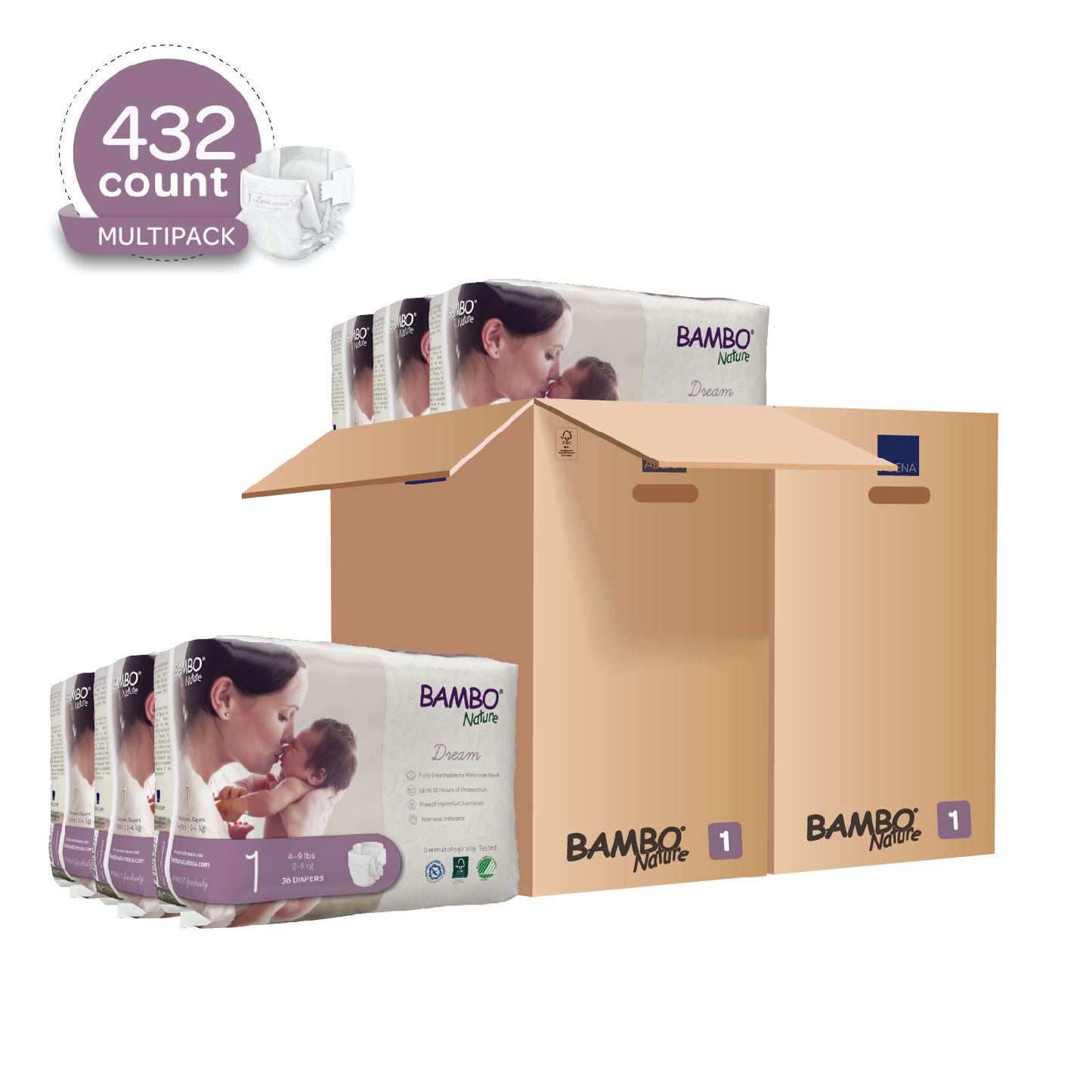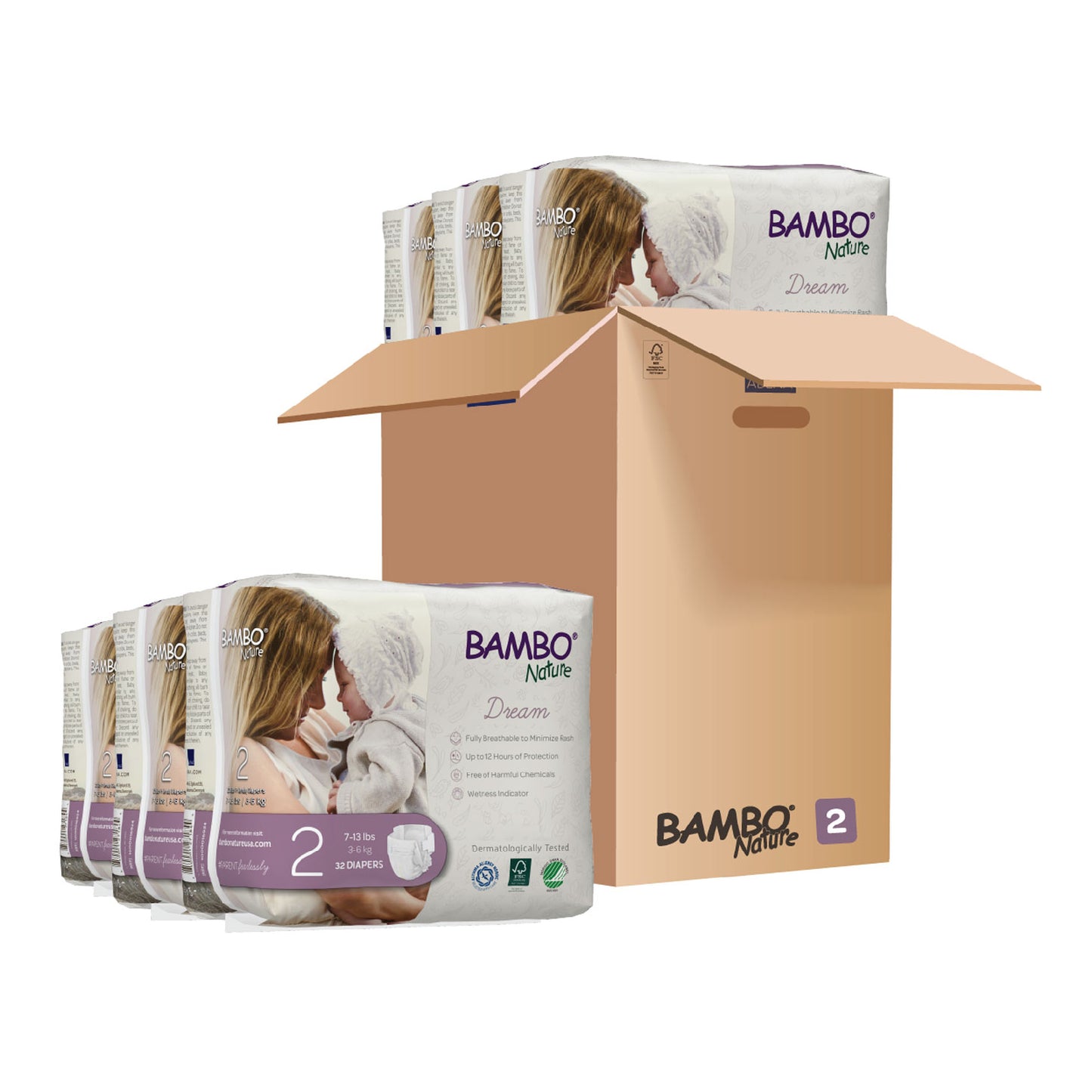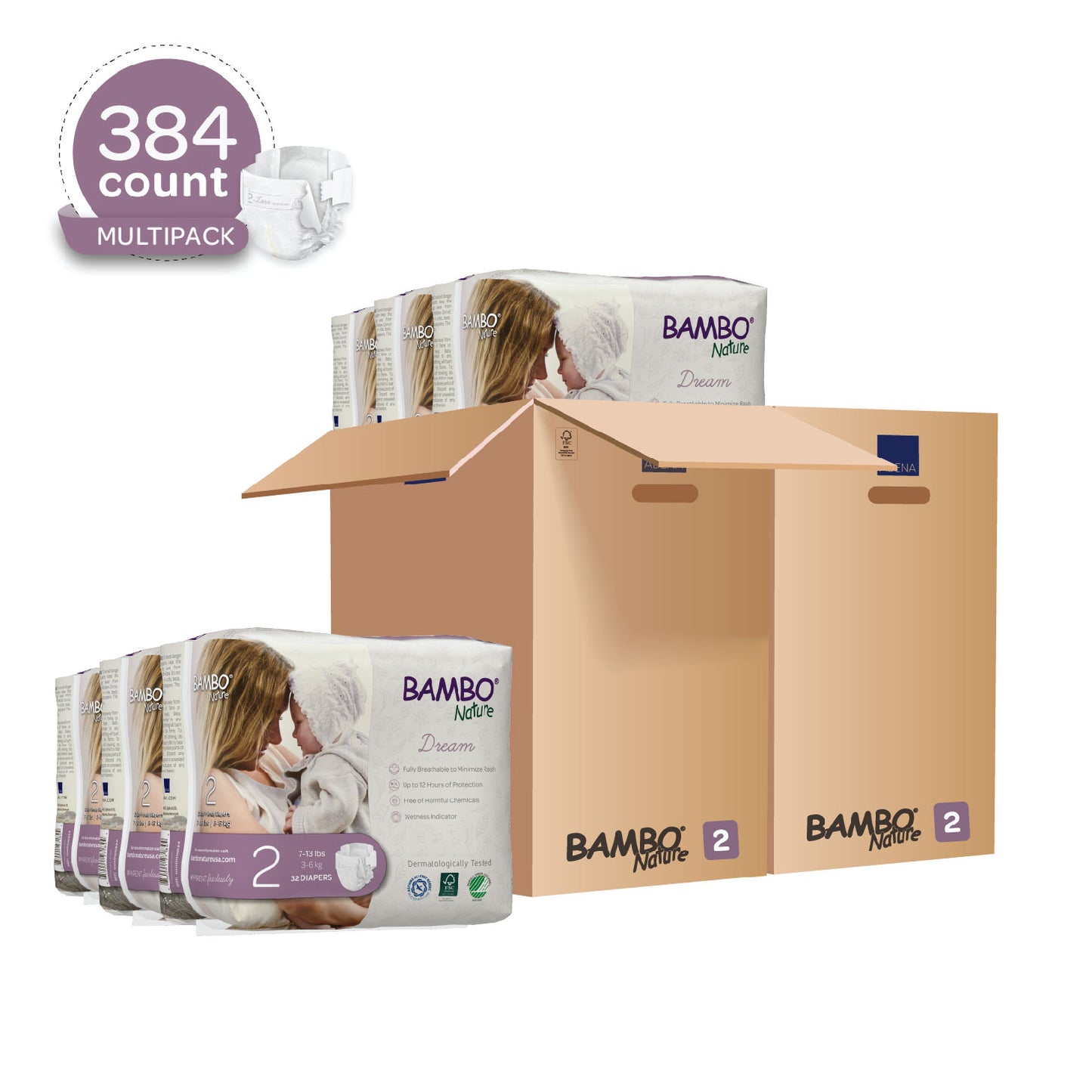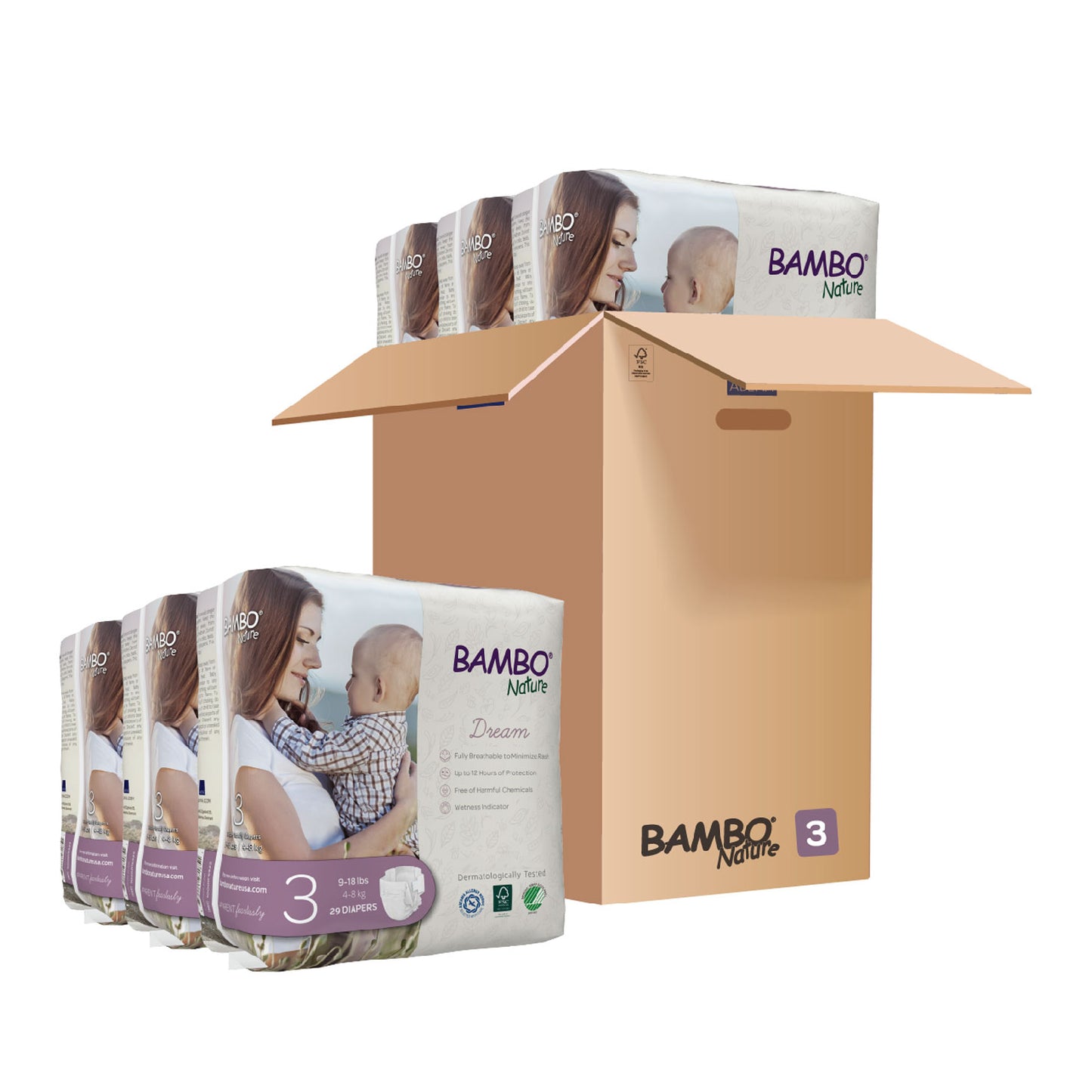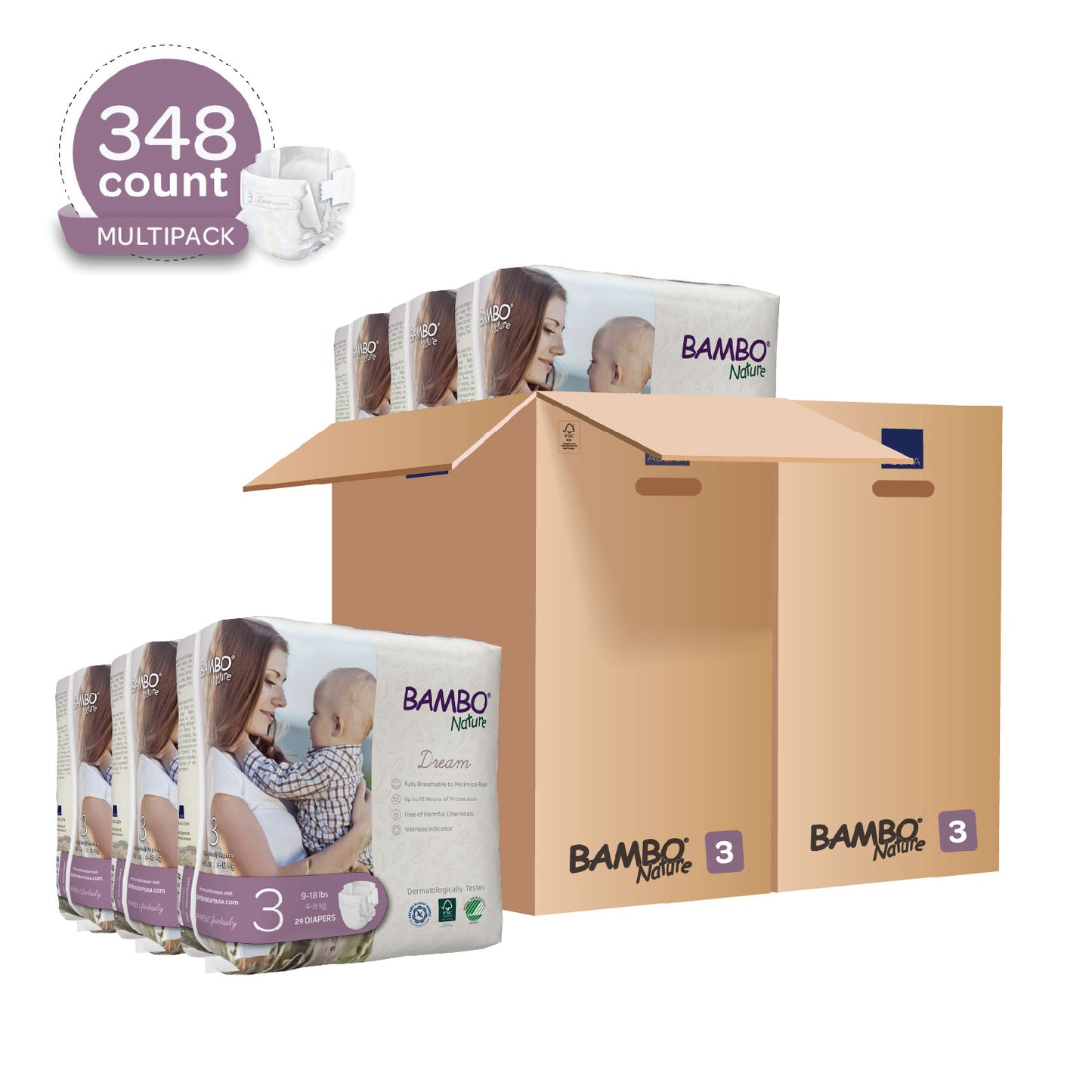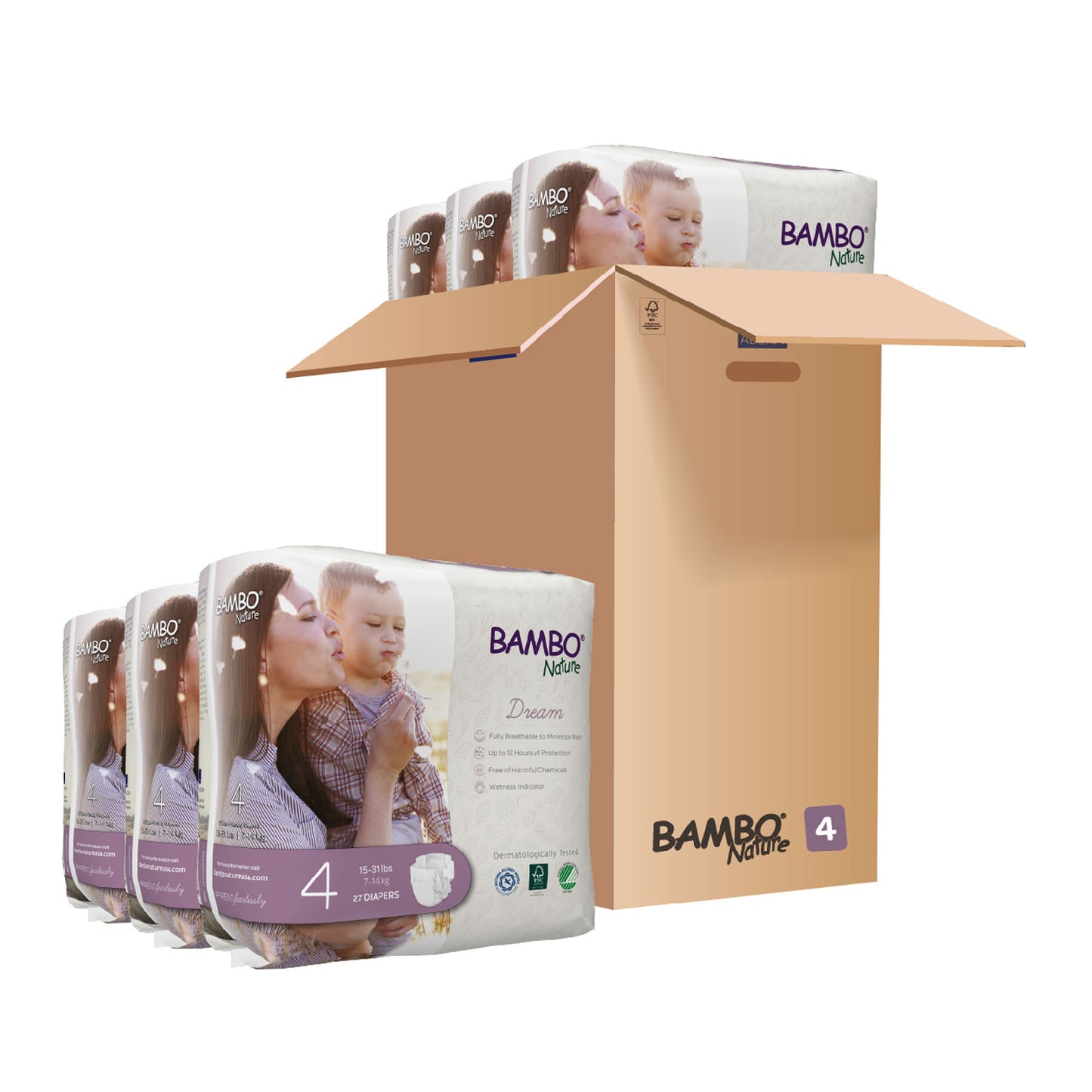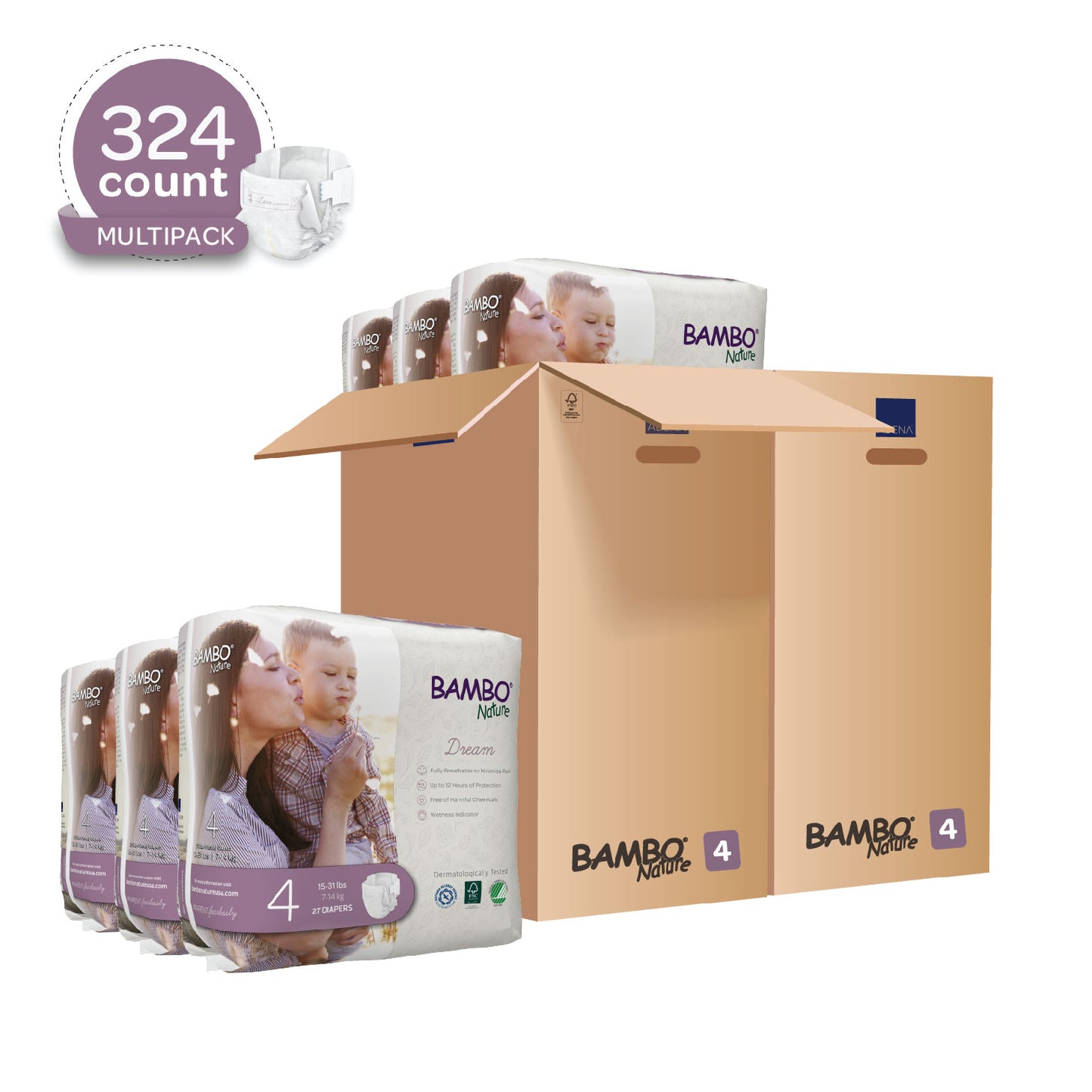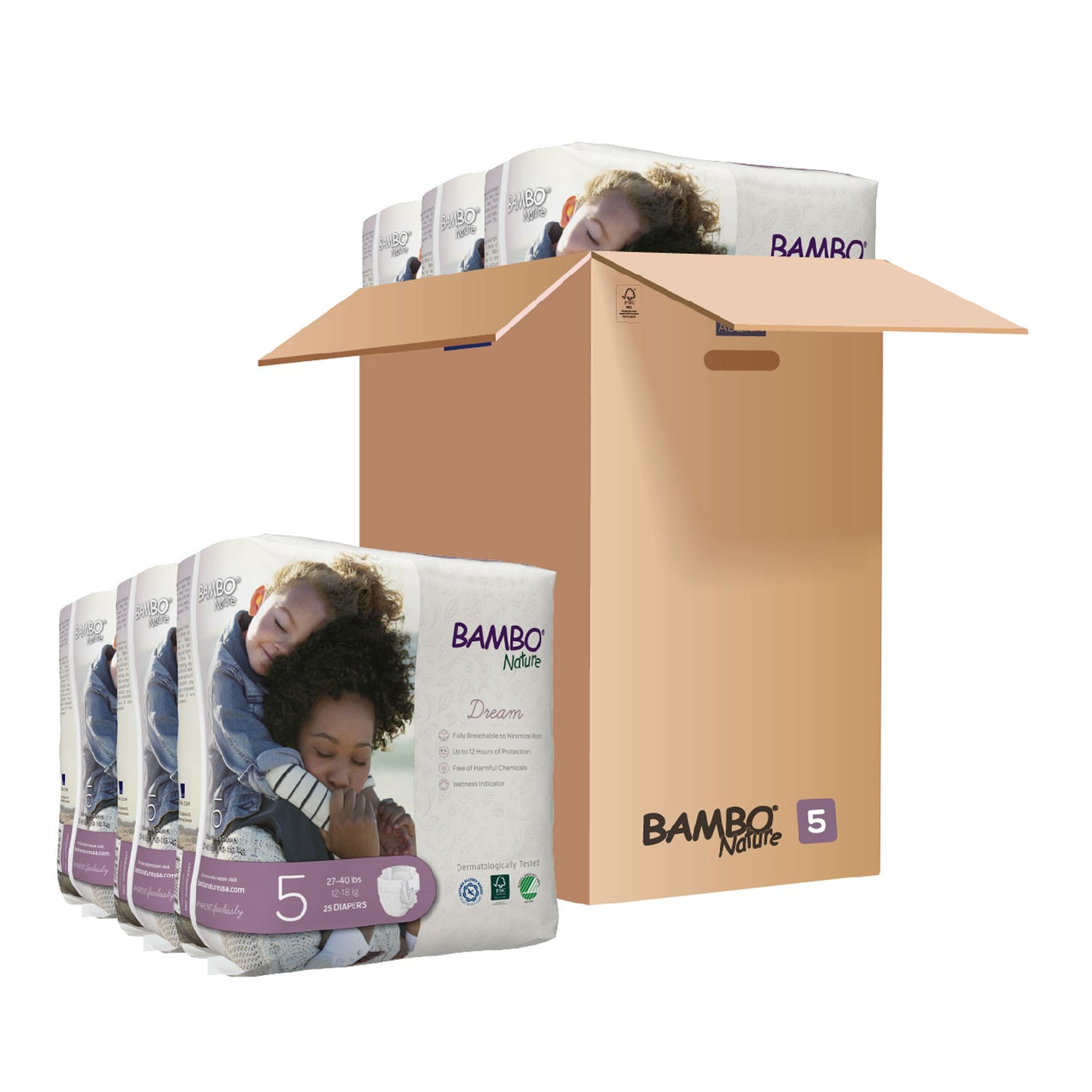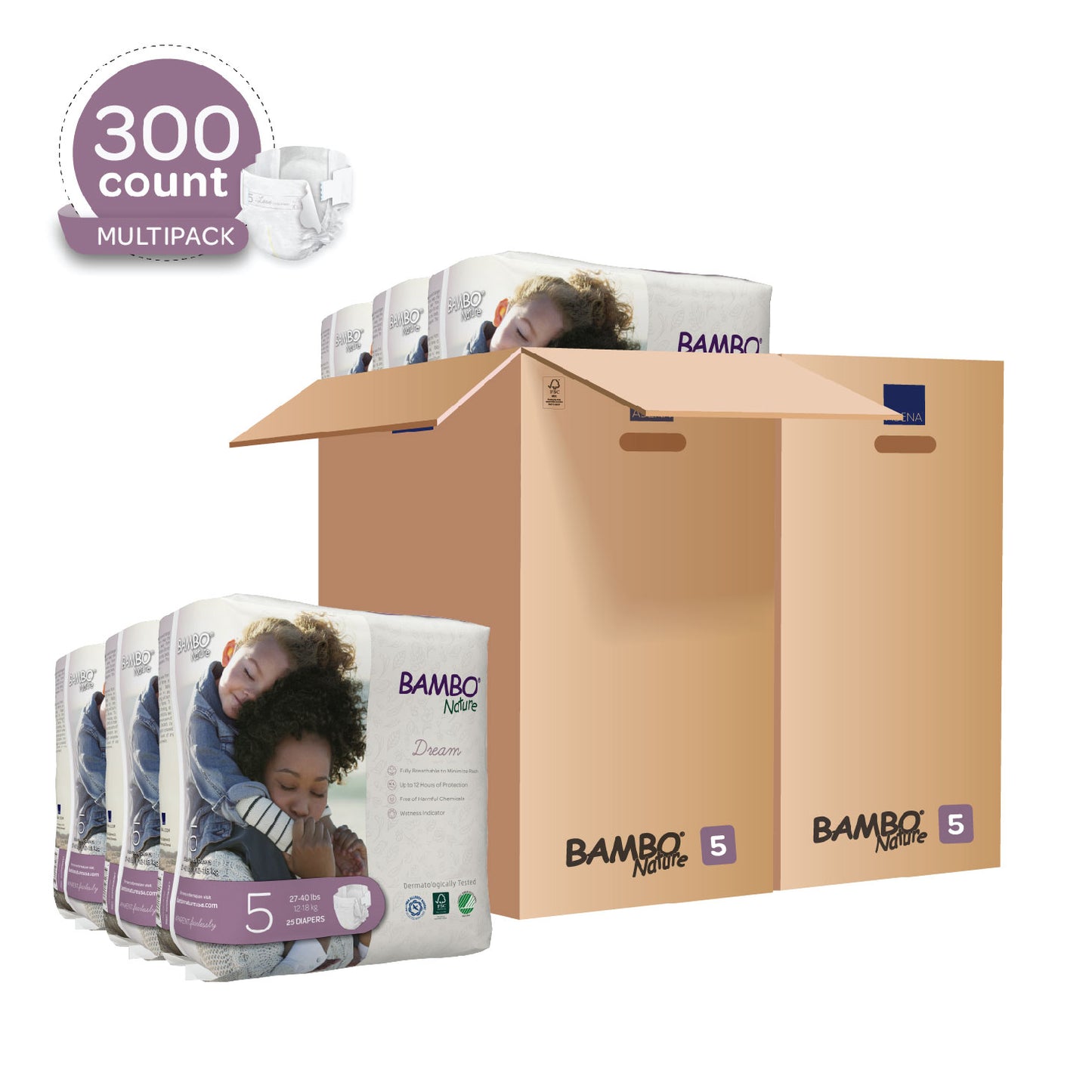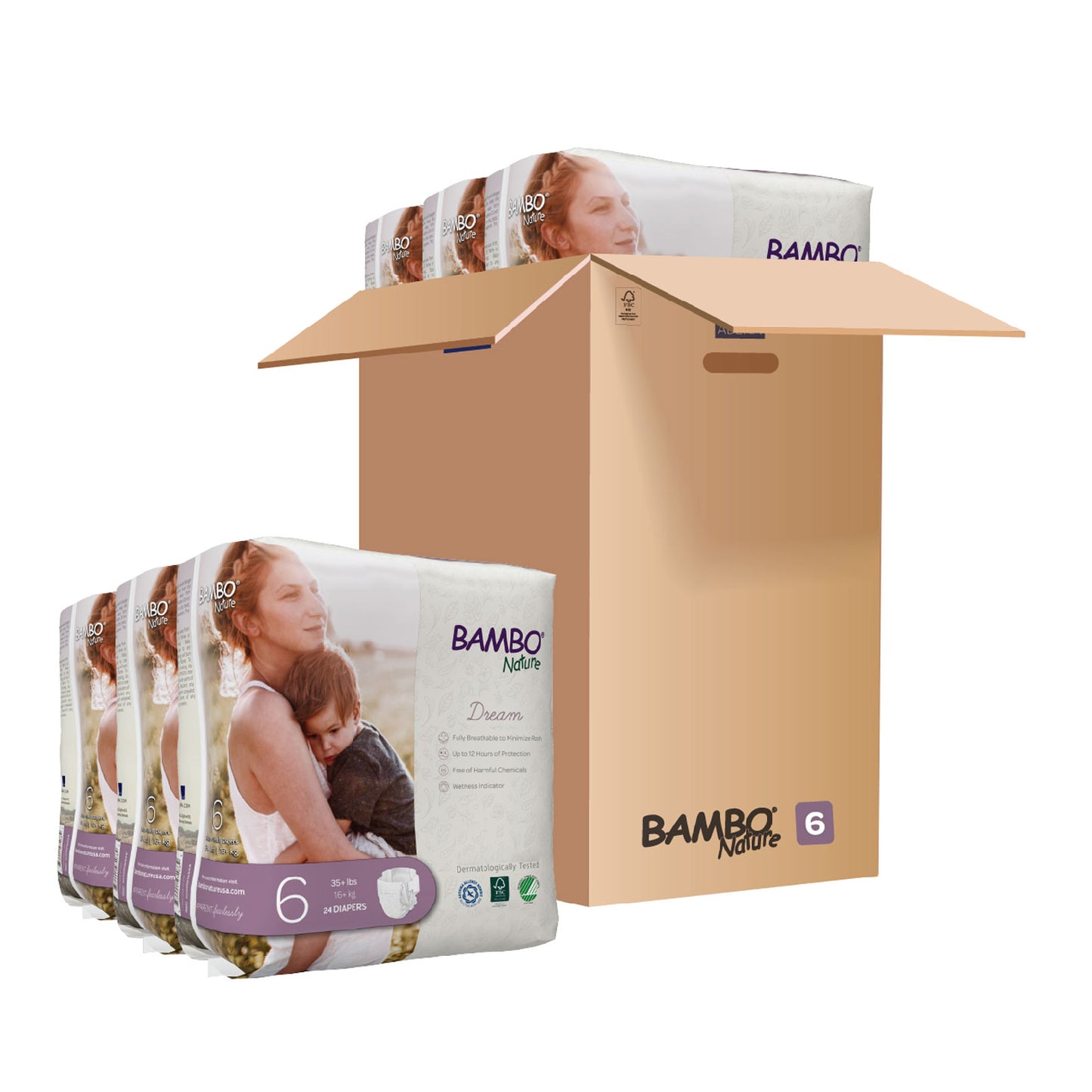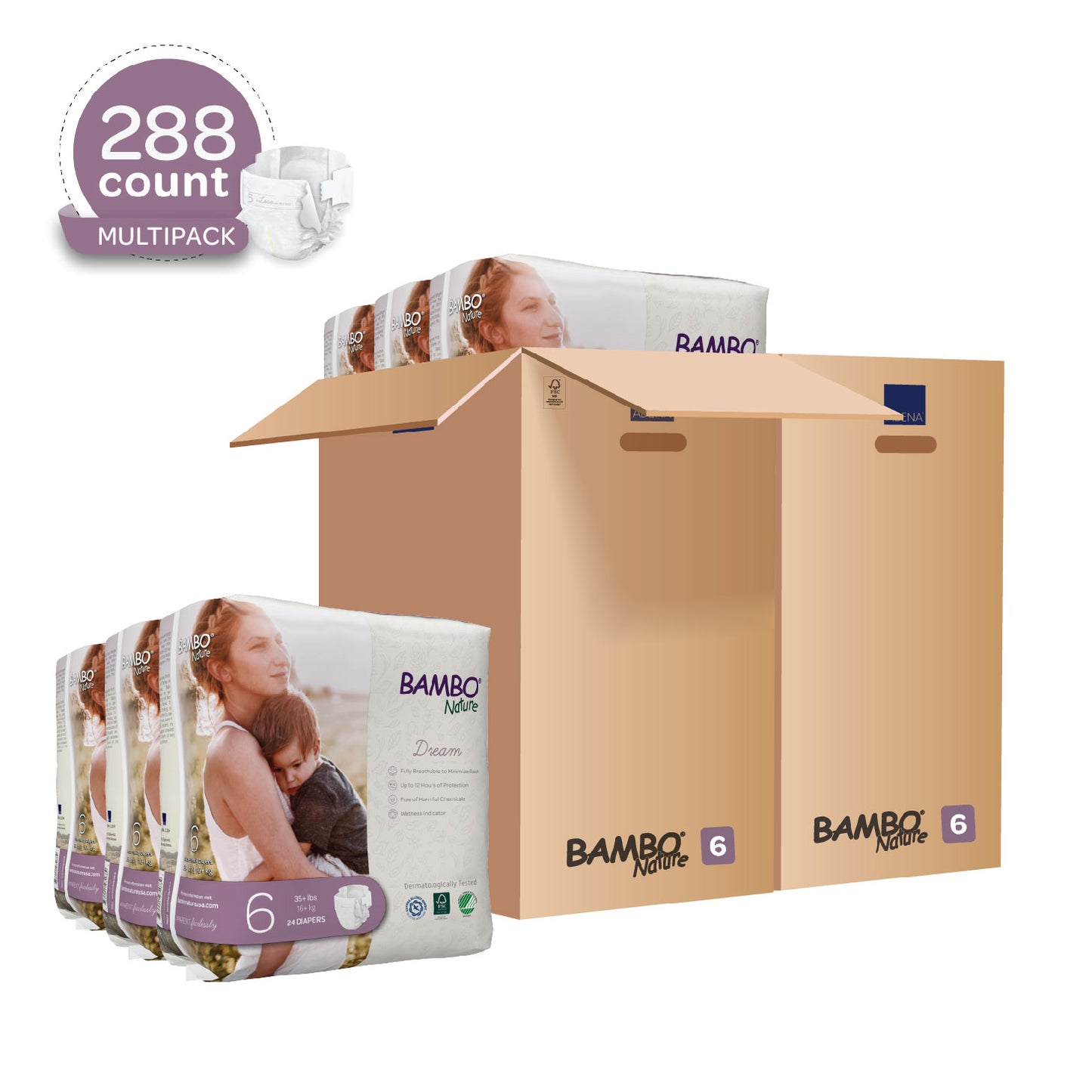 FAQ
What sets Bambo Nature products apart from competitors?

We are happy you asked! Speaking from the heart and soul of who we are, Bambo Nature is a family owned and operated business, with many of our employees and founders having children of their own!! We know the level of excellence we expect in a baby product, and therefore we strive to manufacture and produce this level of excellence for all of our customers. With more than 35 years in production, we are a legacy brand you can trust. It is our mission and core value to make sure we are putting our best foot forward for you and your little ones. Happy and healthy skin starts with Bambo Nature, so you can #parentfearlessly.

Logistically speaking, our products are created for parents who seek soft, comfortable, gentle, skin safe products for their children. Our products are free of all known harmful chemicals, allergens, parabens, and dyes. This is to ensure that you can avoid any allergic reaction, and trust that what you are putting on your baby's gentle skin is actually safe. Our products do not contain any substances or chemicals that are harmful to health or the environment and all of our products have been dermatologist tested by the institute ProDERM (Institute for Applied Dermatological Research).
What is the difference between the Dream Collection and the Overnight Collection?

Our recommendation is to use the Dream diaper during the day, and supplement with the Overnight diaper in the evenings. That being said, both the Dream diaper and Overnight diaper can be worn at any time during the day or night, it all depends on your preference and which type of diaper best suits your baby's bum.

The Dream Diaper line is designed with ultimate flexibility and comfort in mind. A wetness indicator changes color to indicate when a change is needed and our flexible, waistband and latex-free leg cuffs help diapers stay in place while maximizing movement so your child can boot, scoot and boogie all day long.

The Bambo Nature Overnight Diaper is specifically designed with unique 3 channel technology and enhanced leakage barriers. As baby's bowels move throughout the night, the liquids will disperse into the channels that will absorb evenly and keep your baby dry longer. Ultimately, the channel technology and leakage barriers work together to hold the urine and ensure that everything stays in place despite movement and activity level during sleep.

All babies have a different change schedule! We recommend talking to your pediatrician if you need additional information on how often to change your baby's diaper.

How do I know which size diapers to use on my child?

We acknowledge that sizing may be a bit tricky. Size is crucial as a diaper needs to fit to do the work it is intended for and size has a lot to do with the fit. Most sizing charts rely on weight, but we are aware that no two babies are alike. We have been perfecting our diapers for over 40 years, using feedback from hundreds of parents.

Children grow really fast, so you need to evaluate the diaper size regularly. If the size is too small, it will not be able to absorb enough, and you will probably experience leakages. It might also be uncomfortable for your child, as the diaper will be too tight around their waist, belly and thighs. On the other hand, if the diaper is too large, you will almost be guaranteed to end up with leakages, as the diaper will not provide a tight and snug fit.

As it relates to Bambo Nature weight-related sizing, if your child falls between two sizes consider the smaller size if the child has a long and lean stature, and the larger size if the child is shorter and more stout in shape.

What does it mean to be Dermatologist Approved?

When we ensure that our products are Dermatologically Tested and Approved, this means that we have enlisted a third party to conduct the necessary tests to examine the skin's tolerance to a specific cosmetic product. What does this entail, exactly? The testing is done according to the guidelines from Cosmetics Europe in a controlled independent test center by a licensed dermatologist. The dermatologist performs what is known as "patch testing"—placing a small amount of product on an area of the skin and putting a band-aid over it, and then removing the band-aid after 48 hours to see if the skin has had a reaction. The patch test is conducted on at least 50 volunteers (and never animals!) with different ages and skin types to be sure we are testing as many skin variables as possible—normal, sensitive, eczema, etc.! The product is then classified as harmless if none of the volunteers have a negative reaction. Of course, it is impossible to capture and test ALL the different skin types the world has to offer, so there is a slight chance one or several ingredients may cause a reaction.
Love from our customers
Mary M.


Great dependable diapers! We love these diapers! Great protection and no issues with irritation!



Jeff L.


These diapers are amazing! We've tried several brands and honestly no other even comes close. Comfortable and easy to put on.



Myles B.


These are the highest quality diapers around, and are so much safer for little ones. No leaks here and they're so soft.